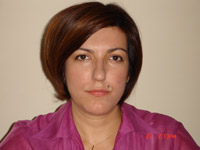 Child Psychiatrist, graduate of Medical School, University of Ioannina, Greece (1990-1996), specialized in child and adolescent psychiatry in the 3nd Clinic of Child Psychiatric Hospital of Athens, where she worked as scientific collaborator from 2004 to 2008.
She works as scientific collaborator in the Adolescent Health Unit of Aglaia Kuriakou Children' Hospital of University of Athens, in ELEPAP and in private. Her scientific work is clinical, educational and research, and she is specialized in Systemic Family Therapy in the University of Athens.
She has participated in educational seminars on child and adolescent psychiatric issues in Greece and aboard and as speaker in International and Greek conferences. She has participated as author in many published books.

She is member in the Association of Child and Adolescent Psychiatry and she is a founding member in the Society for the Hellenic Society for the Study of ADHD.